July 26, 2019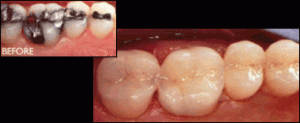 Most of us know how awful cavities are. After all, about 90 percent of the population will have one at some point in our lives. Fillings can be used to fix them, but they unfortunately get a bad reputation for being associated with cavities. They are often seen as painful, when they can in fact relieve the pain of cavities. Many people don't know that much about fillings, so we're here to clear things up. How do fillings work? Which is better: tooth-colored fillings or traditional fillings? Read on to learn more.
How Do Fillings Work?
A cavity is a hole created when decay destroys part of a tooth. When left untreated, the bacteria inside the cavity can spread and damage other parts of the tooth. During a filling procedure, your dentist will remove the decayed part of the tooth using a special tool, and then fill it in. Fillings restore a broken part of a tooth and prevent decay from enacting further damage.
What Are the Types of Fillings?
The two main types of fillings are:
Amalgam Fillings
Amalgam is a mixture of metals, including silver and trace amounts of mercury. They are durable and relatively inexpensive. However, their silver color is more noticeable than tooth-colored fillings, so they are generally not used on front teeth.
Tooth-Colored Fillings
Tooth-colored fillings are made of composite resin, a putty-like substance that takes the shape of the cavity once inserted. Your dentist then hardens it with an ultraviolet light. Composite fillings can be customized to match the exact shade of the rest of your tooth. They are still pretty durable, and with proper oral hygiene, they can last up to 15 years.
Why Are Tooth-Colored Fillings Better Than Traditional Ones?
There are a few reasons why composite fillings are more popular than amalgam ones. These reasons include:
Blends in with the rest of your smile
No concern about mercury
Requires less tooth enamel to be removed
Bond directly to the tooth, making the tooth stronger than it would be with an amalgam filling
Less drilling involved in the procedure
Now you can see why composite fillings are clearly the better choice. The next time your dentist tells you that unfortunate sentence, "You have a cavity," your next words should be, "Can I have a tooth-colored filling?"
About the Author
Dr. Kenneth Canzoneri opened his private practice in Arcadia, CA shortly after graduating from Northwestern Dental School. He is a member of a few professional organizations including the American Academy of Cosmetic Dentistry and the Academy of General Dentistry. To learn more about how he can heal your cavities with tooth-colored fillings, click here or give him a call at (626)-446-1679.
Comments Off

on Why Tooth-Colored Fillings Are Better than Traditional Fillings
No Comments
No comments yet.
RSS feed for comments on this post.
Sorry, the comment form is closed at this time.