Tooth-Colored Fillings – Arcadia, CA
Seamless & Effective Cavity Treatment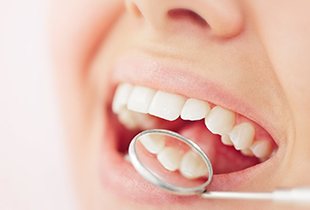 Do you have a cavity that needs to be treated? It's not always easy to tell! Even though tooth decay is often accompanied by tooth sensitivity and soreness, the CDC estimates that 26% of American adults have untreated cavities. Over time, untreated tooth decay can put you at risk of serious dental infections and severe toothaches! Fortunately, Dr. Kenneth J. Canzoneri offers seamless and effective cavity treatment with tooth-colored fillings in Arcadia. Read on to learn more about how these fillings can help keep your smile looking and feeling its best for years to come.
What Are Tooth-Colored Fillings?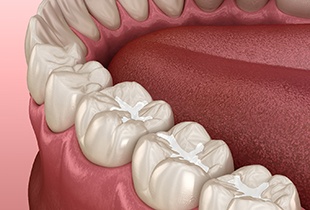 To prevent issues from developing, stop pain, and keep the tooth strong, cavities need to be treated by removing the decayed enamel and replacing it with something. In the past, the only option to do this was with amalgam or silver fillings. While strong, these shiny and noticeable restorations could cause problems for your dental health in the long run, and often contained trace amounts of mercury.
On the other hand, tooth-colored fillings are made of a durable, biocompatible composite resin that can be color matched to the shade of your natural teeth. This material is crafted from fine particles of glass, porcelain, and more to create a composite resin that binds easily to enamel, thus effectively sealing out sensitivity and infection. Plus, tooth-colored fillings are virtually indistinguishable from natural enamel for seamless smile repair.
The Process of Getting a Tooth-Colored Filling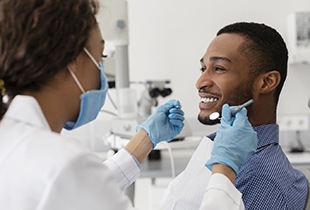 Oftentimes, cavities can be repaired with tooth-colored fillings in a single quick and easy visit. First, to ensure your comfort, we'll numb the area of your mouth that we'll be working on. Then, Dr. Canzoneri will carefully and precisely remove the decayed enamel. A color of composite resin that most closely matches your natural enamel will then be picked out and used to fill in the clean-out area. Dr. Canzoneri will harden it with a curing light and polish it until the filling looks and feels like a natural part of your tooth. Finally, we'll check that your bite feels even and comfortable, making any small adjustments as needed, and then you'll be ready to go out and enjoy your cavity-free smile!
The Benefits of Tooth-Colored Fillings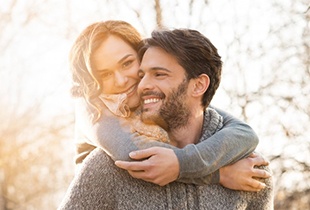 The majority of dentists use tooth-colored fillings for cavity treatment nowadays, and its easy to see why. Composite resin fillings offer a variety of benefits that set them above silver fillings, like:
Virtually invisible appearance that blends in with your smile
Improved ability to seal out sensitivity and infection
Durable and long-lasting with the right care
100% metal-free and mercury-free
An ideal choice for patients with metal allergies or sensitivities
If you currently have silver fillings, we would be happy to discuss replacing them with healthier, more natural-looking tooth-colored fillings for a better smile. Contact us today to schedule your next appointment.