Advanced Dental Technology - Arcadia
Superior Quality, Welcoming Environment
Dr. Canzoneri is proud to be a progressive dentist who regularly pursues new information, advanced training, and modern technology for the sake of his valued patients. These state-of-the-art innovations often result in more accurate diagnoses, elevated comfort, added patient safety, improved efficiency, and many more benefits. To learn more about these amazing tools and their functions, keep reading below. If you have any questions or would like to schedule an appointment here in Arcadia, contact us today.
Digital X-Rays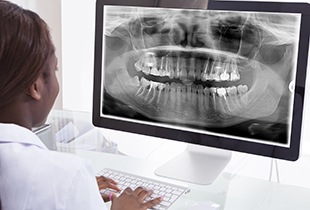 Today, Dr. Canzoneri is proud to use digital X-ray technology instead of traditional film for capturing essential information about his patients' oral health. Unlike film, digital radiography does not require a darkroom, hazardous chemicals, or a significant amount of radiation exposure. Instead, images are available to view within seconds in our computer system and can be stored and transferred in the blink of an eye without difficulty. The dramatically reduced radiation is also much safer for patients and families.
Learn More About Digital X-Rays
Intraoral Cameras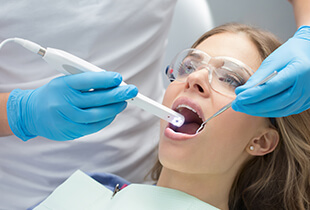 Far too often, patients can feel like they're being left in the dark about what's going on within their own mouth. Intraoral cameras are an excellent educational aid that our team regularly uses to give patients "tours" of their oral health. We'll insert the camera-tipped wand past the lips and start transmitting high-resolution images directly to a monitor in the operatory. Your teeth and gums will be on the big screen for us to refer to when discussing possible treatment, areas of damage, and more!
Learn More About Intraoral Cameras
VELScope Oral Cancer Screening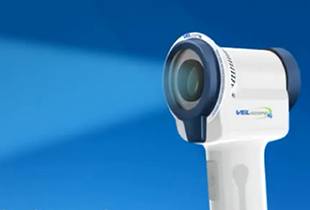 In our effort to help patients catch oral cancer as quickly as possible, Dr. Canzoneri always performs a VELScope screening as part of every regular checkup. This special light makes potentially cancerous tissues in the mouth that would normally be hidden from the naked eye instantly illuminate, helping us detect the disease much sooner than a traditional exam. It literally helps us save lives, and it can do the same for you every time you come to see us.
Digital Impression System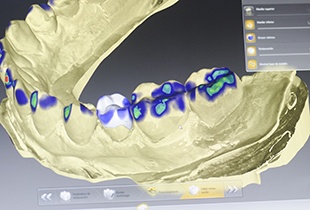 Traditionally, dental impressions were created with a physical mold that patients had to hold within their mouth. This process is typically an unpleasant one, and often required retakes as well to ensure full accuracy. Here in Arcadia, Dr. Canzoneri and his team now use the 3Shape TRIOS® intraoral scanner for excellent digital impressions. Patients won't have to worry about gagging with this modern method – all it takes is a few no-contact scans of the mouth to create a precise recreation of your tooth's shape.
Learn More About Digital Impression System
Soft Tissue Laser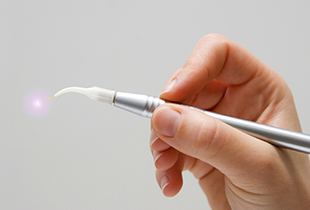 Your gum tissue is just as susceptible to injury and decay as the teeth are, and Dr. Canzoneri's state-of-the-art approach with laser dentistry is the perfect method for treating serious concerns like periodontal disease. We use a Biolase soft tissue laser that can treat and remove diseased tissue with pinpoint accuracy while leaving healthy oral structures safely intact. The process will also be highly comfortable – in fact, most patients won't even need any kind of local anesthesia to undergo the procedure.
Hard Tissue Laser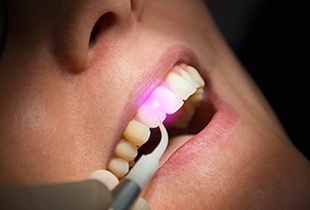 Many people dread the uncomfortable heat and vibrations that come from a traditional dental drill. Here in Arcadia, we've invested in a much better method for treating teeth – our Biolase hard tissue laser. This technology can remove decay and prepare teeth for fillings in a very precise and effective fashion, all while keeping patients very comfortable in the treatment chair. In fact, the bond between your new, tooth-colored filling and the tooth will last even longer with the help of laser dentistry.
Cavity Detection System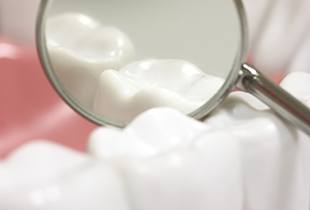 Cavities develop at a gradual pace over time, and the earlier your dentist can discover them, the healthier and more stable your natural teeth will be in the long-run. Dr. Canzoneri regularly uses a state-of-the-art cavity detection system during preventive appointments to discover troubling signs of decay as soon as they arise, especially in hard-to-reach areas of the mouth. In fact, this technology can identify weakened areas of enamel before they're even visible to the naked eye.