Sedation Dentistry - Arcadia
Feel More Relaxed in the Office
Are you one of the 40 million Americans who avoid dental visits because of stress, fear, or anxiety? Do you feel physically uncomfortable in a dental chair at lengthy appointments? Do you need several procedures performed in a short time because multiple dental visits just won't suit your schedule? Dr. Canzoneri understands these concerns, and he offers a solution!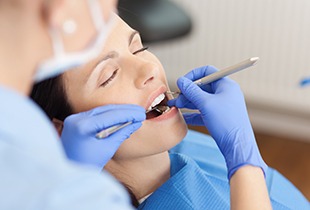 With sedation dentistry, you'll find total peace of mind and body. We'll provide you with a prescription sedative to take by mouth before your dental visit. Dr. Canzoneri will be sure to recommend the appropriate dosage for your age, size, and anxiety level.
When you arrive at our office, we'll escort you to a sedation suite and make you comfortable in an ergonomic dental chair. During your procedure, we'll monitor your vital signs for your safety. You will retain the ability to communicate with Dr. Canzoneri during your procedure, but you'll feel extremely groggy. Most of our patients have little or no memory of the experience the following day.
Please arrange a ride to and from our office for your sedation appointment. You will not be allowed to drive. Plan to spend the remainder of the day at home. You will be able to return to normal activities the next day.
In addition to sedation dentistry, you'll enjoy these amenities at every visit to our inviting office:
Chairside Monitors with DVD capabilities
Personal Headphones
Relaxation Videos
Aromatherapy