Dental Implants - Arcadia
Replacing Teeth To Last
Teeth endure extreme conditions every day: over 600 different bacteria, intense pressure, and dramatic temperature variations, just to name a few. Still, a smile can look very friendly and sweet. People see your smile and automatically, a first impression is formed. Can you imagine what life would be like if instead, you had no teeth? Your diet, health, confidence, and even your entire life would change. Fifty-million Americans are already in that situation. Don't become a statistic as well!
What is a dental implant?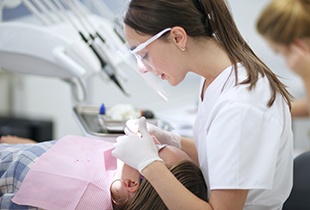 The replacement tooth option that most closely mimics nature's original design is the dental implant. An implant consists of a false tooth (crown) and false tooth root (post). In comparison, bridges, partials, and dentures don't offer replacement tooth roots. Instead, these prosthetics rely on existing structures to support and secure the replacement teeth. Dental implants stand alone, anchored by the replacement for the missing root. Furthermore, dental implants can secure one or more missing teeth. One implant can hold one crown, or a few implants can hold a bridge, partial, or denture.
Why is replacing teeth so important?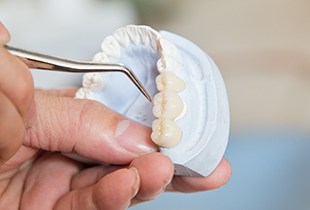 If you're missing one or more teeth, your remaining teeth must compensate by bearing the workload. This is why remaining teeth are at a higher risk for loss if the missing tooth isn't replaced. To bear the load, they often shift out of place, and this alters your bite (occlusion), which can lead to TMJ disorder, premature tooth wear, and bruxism (grinding or clenching teeth). Because they're placed into the jawbone, dental implants promote jawbone retention as well. Without this stimulation, the bone deteriorates, which can lead to facial deformity and an aged appearance.
What are implant-retained crowns and bridges?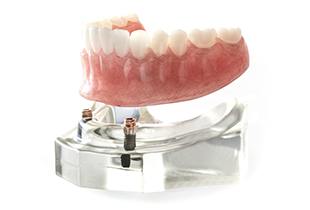 Once your new dental implant or implants has been successfully inserted into the jawbone, it will be time for Dr. Canzoneri to start designing the ideal restoration. There are several options available, and his recommendation will be based on the number of teeth that need to be recreated, as well as the patient's own personal preferences.
For instance, if a single tooth/implant needs to be rebuilt, an implant-retained crown is the ideal option. This crown will be crafted from gorgeous, all-porcelain materials and fitted in place between natural teeth. Alternatively, if two or more natural teeth in a row have been lost, an implant-retained bridge could be best. This type of prosthetic will be anchored over two implants that have been placed on either side of the gap. The final result will be fixed in place for maximum oral function and security.
What are implant-retained dentures?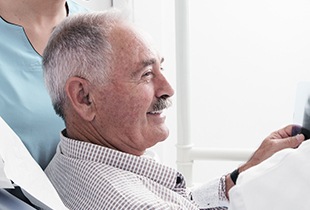 Many patients incorrectly believe that dental implants cannot be utilized for more extensive cases of tooth loss, but this isn't the case. Dr. Canzoneri offers implant-retained dentures as a reconstructive option that is often more cost-effective than crowns or bridges, as we will only place a small number of dental implants to support the full prosthetic.
Implant-retained dentures come in two major forms: hybrid dentures and overdentures. Hybrid dentures are permanently fixed in place and can only be removed by Dr. Canzoneri; they will function just like your natural teeth. Alternatively, overdentures may be ideal for patients who have been already been wearing traditional dentures and prefer being able to take their prosthetic out when they need to. Patients will be able to reap the lasting health benefits of placed dental implants while still enjoying the convenience of a removable denture.
Cost of Dental Implants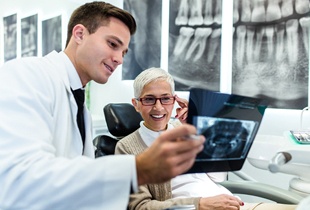 There is rarely a single price tag for dental implants solely because every patient will have their own unique needs to replace teeth. Because of this, you'll need to complete a detailed consultation with Dr. Canzoneri beforehand. From there, he can create a detailed and predictable treatment plan so you know exactly what to expect from your care. In the meantime, you'll want to learn more about the most influential cost factors for dental implants below.
Learn More About the Cost of Dental Implants
Dental Implant FAQs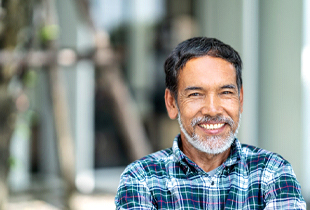 Do you have questions about getting dental implants in Arcadia, CA? If you're curious about what life with a complete smile will be like, our team is more than happy to help describe the entire process during a consultation. We've also answered some common questions that we receive from patients below for your convenience.
How long do dental implants last?
With the proper care and maintenance, dental implants can last for as long as 35 years. The best way to extend the lifespan of your new smile is to quit bad oral habits and keep up with your at-home and professional dental hygiene. If you notice any out-of-the-ordinary symptoms or signs, don't hesitate to contact our office either!
Does dental insurance cover the cost of implants?
Unfortunately, dental insurance providers typically don't cover the cost of the entire dental implant procedure because it's still considered a cosmetic treatment. However, this is beginning to change, and more and more dental insurance plans are starting to cover certain costs of the treatment. It's also a good idea to check with your medical insurance, because preparatory surgeries, such as a bone graft, may be covered by your benefits.
Either way, the best way to learn whether your insurance will cover the cost of your procedure is to contact them directly. In addition to insurance coverage, Dr. Canzoneri also offers additional financing through CareCredit for patients looking to set up manageable payment plans that fit their budgets.
Will dental implant surgery hurt?
Before your dental implants are placed, a local anesthetic will be administered to the area to ensure that you don't feel a thing throughout the process. If necessary, you can also receive sedation to help you relax and feel more comfortable during the procedure. During your consultation, Dr. Canzoneri will discuss the surgery with you and answer questions or address any anxieties you may have about the process.
How do I take care of my dental implants?
One great benefit about getting dental implants is that they're incredibly easy to care for. Just like your natural pearly whites, it's vital to brush twice each day, floss daily, and rinse with antibacterial mouthwash every day. In addition to at-home dental hygiene, it's vital to continue coming in for your semi-annual checkups and cleanings so our team can ensure that your implant-retained restorations are healthy and properly functioning. If you have any bad oral habits that could damage or put your dental implants at risk, such as smoking or grinding your teeth, it's important to address those before committing to the procedure. That way, you can get the most out of your completed smile.
How can I learn more about dental implants?
If you'd like to find out whether dental implants are right for your situation, schedule an implant consultation with Dr. Canzoneri. He'll be happy to assess your oral health and recommend options for replacing your missing teeth. We want you to enjoy an enhanced quality of life! At our Los Angeles dental office, you can request sedation dentistry for comfort and peace of mind during implant procedures. If financing is a concern, ask us about CareCredit, a leader in low and no-interest medical loans.