Dental Implants — Arcadia, CA
Replacing Teeth to Last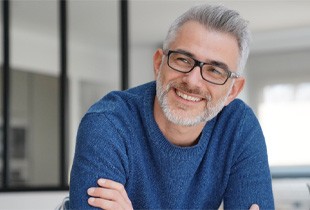 Teeth endure extreme conditions every day: over 600 different bacteria, intense pressure, and dramatic temperature variations, just to name a few. Still, a smile can look very friendly and sweet. People see your smile and automatically, a first impression is formed. Can you imagine what life would be like if instead, you had no teeth? Your diet, health, confidence, and even your entire life would change. Fifty million Americans are already in that situation. Don't become a statistic as well!
Why Choose Kenneth J. Canzoneri, DDS For Dental Implants?
Partnered with Local Specialists
Advanced Dental Technology
Dental Insurance Accepted & Flexible Financing Available
What Are Dental Implants?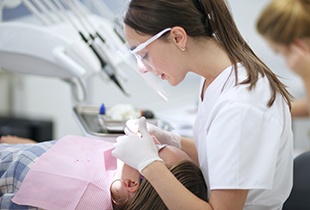 The replacement tooth option that most closely mimics nature's original design is the dental implant. An implant consists of a false tooth (crown) and a false tooth root (post). In comparison, bridges, partials, and dentures don't offer replacement tooth roots. Instead, these prosthetics rely on existing structures to support and secure the replacement teeth. Dental implants stand alone, anchored by the replacement for the missing root. Furthermore, dental implants can secure one or more missing teeth. One implant can hold one crown, or a few implants can hold a bridge, partial, or denture.
The 4 Step Dental Implant Process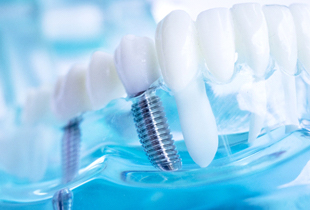 The dental implant procedure is customized to fit each unique patient's needs, making it successful, long-lasting, and made to look and feel natural. If you would like to learn more about the entire process and what the treatment would be like, your best bet is to contact our office to schedule a consultation. Otherwise, we've provided a general breakdown of a dental implant treatment timeline below. It's important to keep in mind that this can vary depending on your needs.
Initial Dental Implant Consultation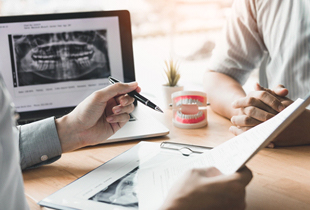 The first step on your journey towards a completed smile is to schedule a consultation with Dr. Canzoneri. During your visit, we'll take images of your mouth and conduct a thorough oral examination to assess your situation. From our findings, we can determine how many dental implants you'll need to have placed, what type of restoration you require, and how long your treatment will take. Based on these details, our team will create a timeline for you so you know exactly what to expect. We're also more than happy to speak with you about financing options and the cost of your dental implant procedure as well.
Dental Implant Surgery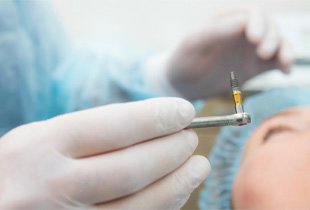 Once you decide that you'd like to move forward with the treatment, we'll schedule your dental implant surgery. We work with experienced oral surgeons in our area to provide the best results and ensure that your implants are successfully placed. A local anesthetic will be administered to the area being operated on beforehand to ensure that you remain comfortable throughout the process.
Dental Implant Osseointegration & Abutment Placement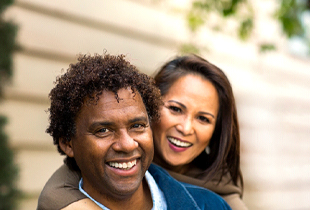 After your surgery, we'll provide you with some aftercare instructions to reduce any risk of complications and make sure that your gums heal properly. Over the course of three to six months after your operation, your dental implants will fuse with your jawbone through a process called osseointegration. This will provide your restorations with a strong and stable foundation.
Once you've completely healed from your surgery, we'll attach small, metal connector pieces called abutments onto your implants. Then, we'll take impressions of the area to send off to our dental laboratory to craft your restorations to our specifications.
Delivery of Dental Implant Restorations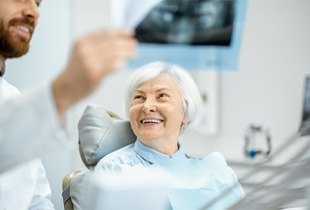 After several weeks, your gums will be healed around your abutments, and we'll be ready to secure your restorations to the implants and complete your smile. Before you head out, we'll also provide you with some basic maintenance instructions so you can get the most out of your newly transformed grin.
Benefits of Dental Implants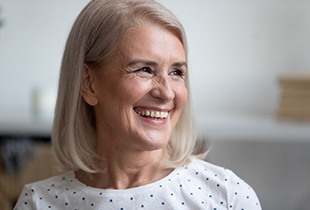 Over 500,000 dental implants are placed every year, making them one of the most popular methods of tooth replacement. Thanks to their unique placement inside the jawbone, they're able to provide a wide range of benefits you simply can't get with more traditional options like dentures and dental bridges. Not only can dental implants last decades, but they can drastically improve your overall quality of life! Below, you'll learn why they come so highly recommended. If you'd like to know how they can personally help you, don't hesitate to give our friendly team a call today.
Day-to-Day Benefits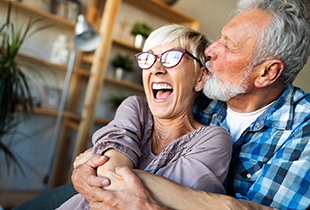 If you currently wear dentures, you know from experience how much the prosthetic can limit your ability to enjoy your everyday life. By upgrading to dental implants in Arcadia, you can reap several incredible benefits, such as:
Ability to Eat Most Foods: Dental implants are surgically inserted into the jawbone, replacing the entire structure of missing teeth from the root up to the chewing surface. Because of their placement, they can withstand the chewing of virtually any food.
Increased Confidence: Since dental implants are personalized to fit your facial aesthetics, you can enjoy a beautiful and natural-looking smile. You'll be able to show off your grin with confidence!
Easier Maintenance: With dental implants, you don't have to worry about purchasing special products or incorporating complex steps into your oral hygiene routine. All you have to do is care for them as you would natural teeth!
Health Benefits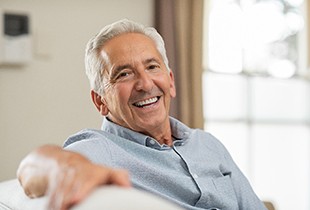 Aside from improving your daily quality of life, dental implants in Arcadia provide many outstanding health advantages. Some of those include:
Jawbone Preservation: Because dental implants are placed inside the jawbone, they stimulate it to provide it with internal support. It helps prevent the bone loss that's incredibly common after having missing teeth. Plus, it can maintain your face's overall shape for years to come.
Protection for Natural Teeth: It's common for teeth to shift after tooth loss. Luckily, dental implants serve as a placeholder to ensure every member of your smile stays exactly where it belongs.
Improved Overall Health: Many studies have discovered a correlation between tooth loss and an increased risk of multiple diseases. Since dental implants are the next best thing to natural teeth, it's safe to assume that they can help lower such risks.
Long-Term Benefits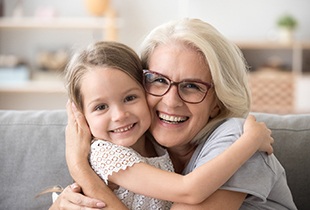 If you get dental implants in Arcadia soon, they can help you both in the short term and the long term. Here are some benefits you can look forward to:
High Success Rate: Even 20 years after they've been placed, dental implants have an impressive success rate of about 95%.
Youthful Appearance: Since dental implants stimulate blood flow in the jaw, they prevent the sunken, aged look that accompanies tooth loss.
Long-Lasting Results: Unlike dentures and dental bridges, dental implants can last decades without needing replacement. Proper maintenance will help you save plenty of time and money compared to other tooth-replacement options.
Who Dental Implants Can Help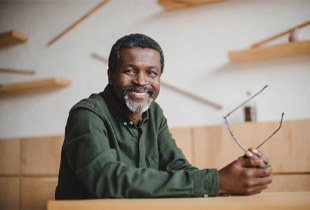 Once your new dental implant or implants has been successfully inserted into the jawbone, it will be time for Dr. Canzoneri to start designing the ideal restoration. There are several options available, and his recommendation will be based on the number of teeth that need to be recreated, as well as the patient's own personal preferences.
Missing 1 Tooth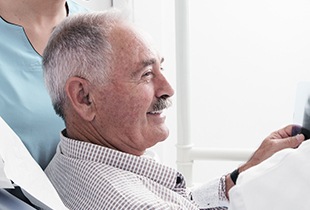 If a single tooth/implant needs to be rebuilt, an implant crown is the ideal option. This crown will be crafted from gorgeous, all-porcelain materials and fitted in place between natural teeth.
Missing Multiple Teeth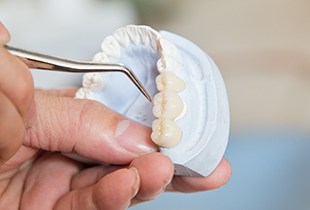 If two or more natural teeth in a row have been lost, an implant bridge could be best. This type of prosthetic will be anchored over two implants that have been placed on either side of the gap. The final result will be fixed in place for maximum oral function and security.
Missing All Teeth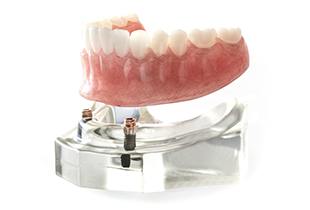 Many patients incorrectly believe that dental implants cannot be utilized for more extensive cases of tooth loss, but this isn't the case. Dr. Canzoneri offers implant dentures as a reconstructive option that is often more cost-effective than crowns or bridges, as we will only place a small number of dental implants to support the full prosthetic.
Implant dentures come in two major forms: hybrid dentures and overdentures. Hybrid dentures are permanently fixed in place and can only be removed by Dr. Canzoneri; they will function just like your natural teeth. Alternatively, overdentures may be ideal for patients who have already been wearing traditional dentures and prefer being able to take their prosthetic out when they need to. Patients will be able to reap the lasting health benefits of placed dental implants while still enjoying the convenience of a removable denture.
Understanding the Cost of Dental Implants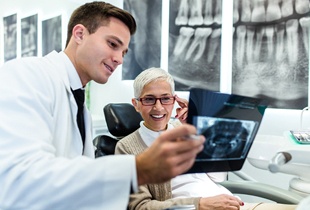 There is rarely a single price tag for dental implants solely because every patient will have their own unique needs to replace teeth. Because of this, you'll need to complete a detailed consultation with Dr. Canzoneri beforehand. From there, he can create a detailed and predictable treatment plan so you know exactly what to expect from your care. In the meantime, you'll want to learn more about the most influential cost factors for dental implants below.
Types of Dental Implants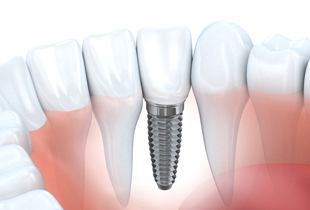 Part of determining your final costs is recognizing the specific types of dental implants that are used and the number that will be needed to replace your teeth. These are two of the most influential factors because they determine almost everything else about your treatment. For example, it's exactly why someone getting a single implant placed is far more likely to spend less money overall than someone replacing multiple teeth with a series of implants. Following your consultation, we'll have a much clearer picture of what the price of your treatment will look like.
What are the Stages of Dental Implant Treatment?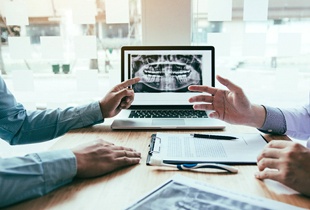 Every phase of treatment will involve a unique cost. For example, the surgical placement of the implant (which can increase or decrease depending on the number of implants needed), the possibility of needing an abutment placed, and the restoration itself all have their own unique costs. Of course, if you also need treatments that prepare you for your dental implants, such as bone grafting or periodontal therapy, they will increase your final costs as well. We make sure to dedicate plenty of time to the planning stages of your treatment so you are not caught off guard by surprise fees.
Are Dental Implants Worth the Investment?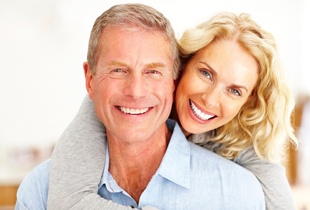 We know that dental implants generally cost more than traditional tooth replacement options, but we believe once you learn about the benefits, you'll find that they are worth it. Not only can you expect your replacement teeth to look natural, but they will feel natural as well every time you bite into your favorite food! Furthermore, they are designed to last for several decades at a time and, in many cases, the rest of your life. On top of that, there's significantly less maintenance involved compared to bridges or dentures and a lower chance that you'll need to replace them, making it a more cost-effective option.
Does My Dental Insurance Cover Dental Implants?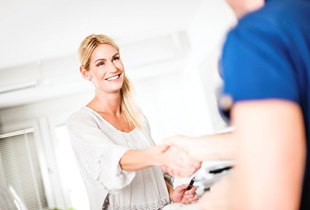 We know that dental implants gen
In most cases, you'll find that dental insurance will not cover the placement of dental implants. However, there are instances where insurance may offer partial coverage for certain services related to this treatment. This includes the initial consultation, gum therapy, restorations to cover the implants, and even bone grafting. While our office is happy to be in-network with Delta Dental Premier and file claims for all other major plans, we also offer third-party financing options like CareCredit. This option allows you to pay for dental implants over the course of several months in low-to-zero interest payments.
Dental Implant FAQs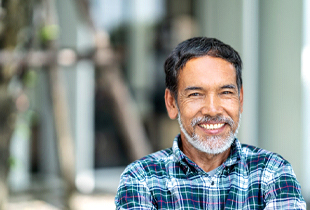 Do you have questions about getting dental implants in Arcadia, CA? If you're curious about what life with a complete smile will be like, our team is more than happy to help describe the entire process during a consultation. We've also answered some common questions that we receive from patients below for your convenience.
How long do dental implants last?
With the proper care and maintenance, dental implants can last for as long as 35 years. The best way to extend the lifespan of your new smile is to quit bad oral habits and keep up with your at-home and professional dental hygiene. If you notice any out-of-the-ordinary symptoms or signs, don't hesitate to contact our office either!
Will dental implant surgery hurt?
Before your dental implants are placed, a local anesthetic will be administered to the area to ensure that you don't feel a thing throughout the process. If necessary, you can also receive sedation to help you relax and feel more comfortable during the procedure. During your consultation, Dr. Canzoneri will discuss the surgery with you and answer questions or address any anxieties you may have about the process.