Porcelain Crowns - Arcadia
Seamless Design for Beautiful Results
You don't have to worry about metal crowns stealing your all-white smile! Dr. Canzoneri places all-porcelain crowns on front teeth. These durable, esthetic restorations do not feature a dark line at the gum line, and they have an unobtrusive, natural appearance. For other teeth that can sometimes show when you smile, the dentist may recommend porcelain-fused-to-metal crowns. These durable restorations will endure the significant pressure your molars are subjected to every day when you chew or bite.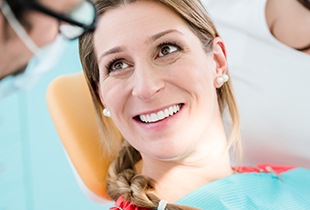 Crowns, also called caps, fit snugly over damaged teeth to restore their shape, strength, and appearance. They can restore teeth with deep decay, large fillings, or even fractures. Left untreated, these problems will only worsen and cause more severe concerns. For example, cavities can lead to infection inside a tooth, which necessitates a root canal. Cracked teeth can break off at the root, a painful and serious problem. If Dr. Canzoneri recommends a crown, don't delay. You need to schedule treatment as soon as possible!
Placing a dental crown usually requires two visits to our office. At the first appointment, Dr. Canzoneri will prepare your tooth for a crown, take an impression for the dental lab, and place a temporary. When designing your crown, the dentist will maintain (or correct) your bite by assessing data gathered through our T-scan.
You'll return a week or two later at another scheduled appointment for permanent placement of the dental crown. When you leave our office with your new restoration, only you and the dentist will be able to tell that you've had dental work done!