Teeth Whitening – Arcadia, CA
Achieve True White Results in Record Time
It's no secret that laser technology has been the key to several advances in dentistry. While most of those have been in the areas of restorative care and periodontal therapy, cosmetic dentistry has also been positively impacted. Specifically, you can now get the perfect white smile you've always wanted with teeth whitening in Arcadia. The process may require a couple of treatments, but the results are no less than spectacular. If you'd like to learn more about this service, continue reading or give our office a call today!
Who is a Good Candidate for Teeth Whitening?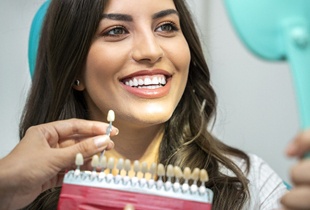 There are many reasons why your smile may not be as bright as it once was. The primary reason is probably what you eat and drink every day. Think of all the richly colored foods and beverages out there: dark chocolate, blueberries, red tomato sauce, black coffee, green tea, and the list goes on and on. These all have the potential to stain your teeth.
In addition, the following may also contribute to the discoloration of your smile:
Smoking and chewing tobacco
Certain medications (i.e., antibiotic tetracycline if taken at a young age)
Chemotherapy and radiation for cancer treatment
Teeth grinding and clenching
Micro-cracks in the enamel that trap food particles and other stain-causing debris
Genetics
Fortunately, teeth whitening in Arcadia can eliminate these stains and give you a set of pearly whites you'll proudly show off. Research shows that people with white teeth are not only considered younger but also smarter, more outgoing, and even more financially successful than their not-so-lucky peers.
How Does In-Office Teeth Whitening Work?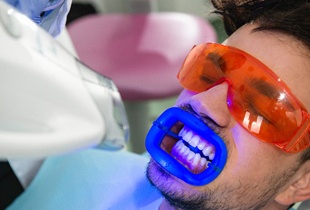 Many bleaching products are sold in stores for use at home. However, you can only get laser teeth whitening treatment in a dental office. It's a safe and effective option that'll deliver fast yet stunning results – perfect for patients who have an upcoming special event like a job interview, wedding, or graduation!
Before the procedure, Dr. Canzoneri will protect your gums, lips, and other soft tissues by placing cheek retractors in your mouth and a rubber dam over your gums. Then, a strong bleaching solution is applied to your teeth. The heat from our laser speeds the whitening process and also improves its effectiveness. We use a bleaching gel with a higher concentration of hydrogen peroxide to achieve the most dazzling results.
At the end of your teeth whitening treatment, we'll apply fluoride to prevent tooth sensitivity. It's worth noting that even though each treatment takes about an hour, you may need more than one session to reach the level of white you desire.
Tips for Maintaining Your Brighter Smile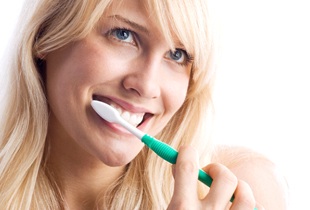 Once you have the beautiful smile of your dreams, you'll want to keep it that way forever! Here are some steps you can take to preserve your bright results:
Reduce your intake of dark-colored foods and drinks (i.e., soda, red wine, coffee, soy sauce, curry)
Practice good oral hygiene (i.e., brush twice a day, floss daily, and rinse regularly)
Stay on top of your routine checkups and cleanings to ensure there are no problems developing
Avoid poor dental habits like smoking, biting your fingernails, and using your teeth as tools
Visit Dr. Canzoneri regularly for touch-ups
Are you tired of hiding your stained or discolored smile? Contact our office and schedule a consultation with Dr. Canzoneri to find out if teeth whitening in Arcadia is right for you!
Teeth Whitening FAQs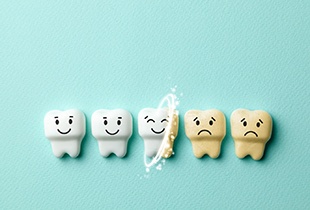 If you're looking to enhance the natural beauty of your smile, teeth whitening could be the solution that you've been looking for. However, it pays to be well informed, so we're here to help! Here are the answers to some of the most common questions we receive about teeth whitening in Arcadia. If you don't see the information that you've been looking for below, give us a call! We'd be happy to answer your questions and schedule you for an appointment.
Does Teeth Whitening Hurt?
Many patients are hesitant to commit to treatment because they are worried that the procedure will hurt. Because professional teeth whitening is entirely custom, you are much less likely to experience tooth sensitivity. If your teeth are more prone to sensitivity, don't hesitate to let us know. By spacing out treatments, avoiding hot beverages, and using specialty toothpaste, we can help you to avoid this unpleasant sensation.
Does Teeth Whitening Damage Enamel?
No, teeth whitening gel does not damage healthy enamel. However, if your teeth are already compromised by decay or gum disease, the chemicals can cause problems. That's why conducting a comprehensive dental exam beforehand is so important. Additional damage can come from at-home remedies that do more harm than good, like using activated charcoal and hydrogen peroxide to attempt to address discoloration. If you want to whiten your teeth in any way, you should always consult your dentist first. This way, they can provide you with valuable insight so you can get the results you're looking for safely.
Does Teeth Whitening Work on Dental Crowns?
Dental crowns cannot be whitened like your natural teeth. In fact, whitening gels can weaken the bond between your tooth and restoration. Fortunately, you can help to prevent your dental crowns from discoloring by implementing the same best practices you use for your natural teeth. If you are unhappy with the current shade of your dental crown, it can be replaced to better suit your smile goals.
Is Teeth Whitening Permanent?
Teeth whitening is not permanent. Typically, results will last anywhere from a couple of months to a few years depending on how well you care for your teeth. To prolong your results, you should implement a solid at-home oral hygiene routine, attend your six-month dental cleanings and checkups, and avoid poor dental habits, like smoking. Touch-up treatments are also available to help keep your teeth pearly white.