December 31, 2020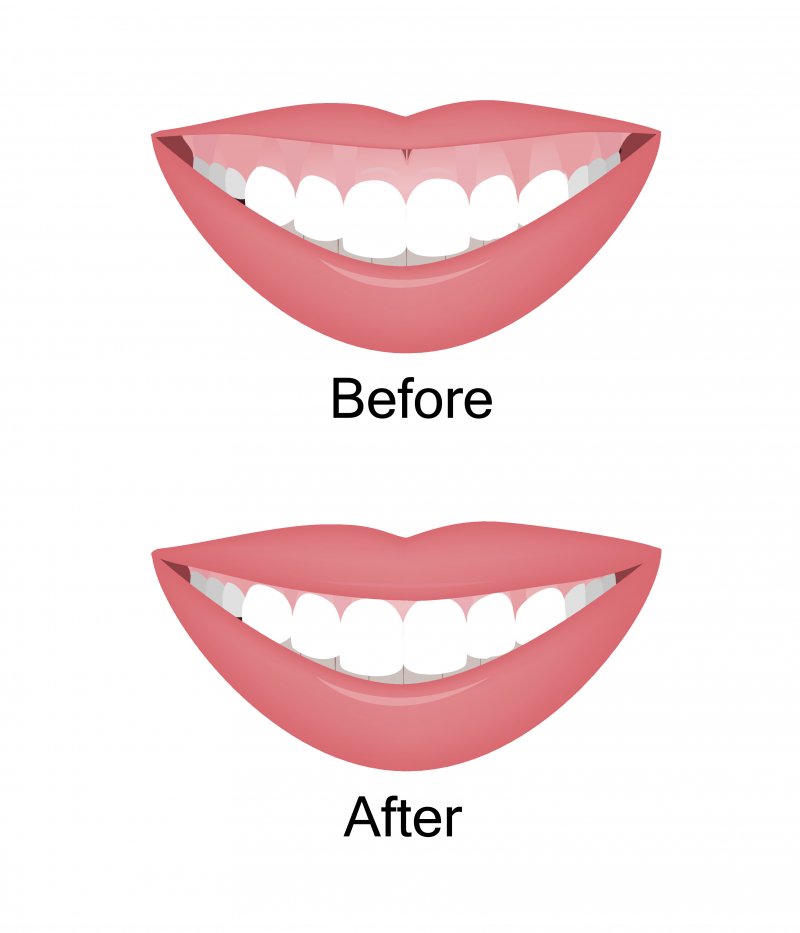 A gummy smile isn't necessarily harmful, but it can still leave you feeling a little embarrassed if it ends up making your teeth look far smaller than they should. Fortunately, there are multiple ways you can make your grin more proportionate and beautiful, and your dentist can tailor each of these treatments according to your unique dental needs! Read on to learn more about porcelain veneers in Arcadia and 4 other potential ways to say good-bye to a gummy smile.
1. Porcelain Veneers
Veneers are thin shells attached to the front of the teeth to hide any number of cosmetic flaws. In addition to hiding cracks and stains, it can also be used to change the shape and size of the tooth itself. By making the teeth appear longer, they will look proportionate to the gums, resulting in a much more aesthetically pleasing smile all around. The number of veneers needed depends on how extensive the problem is; depending on your needs, you could potentially get enough implants for every visible tooth or just a few strategically chosen ones.
2. BOTOX
BOTOX has more uses than just getting rid of wrinkles! Sometimes the appearance of a gummy smile is due to the way the upper lip curls or raises high above the teeth. With BOTOX, your dentist can help the lip relax so that it doesn't pull back as much so that the gums aren't as visible. That means all eyes will be on your dazzling teeth – where they should be.
3. Orthodontics
Sometimes the gums appear more prominent because of the positioning of the teeth and jaws – say, due to an overbite. By correcting these problems with orthodontics, you can decrease the amount of gum tissue that's visible whenever you smile. The appropriate type of orthodontic treatment depends on the severity of your alignment problems as well as your lifestyle.
4. Gum Recontouring
The most direct way to take care of a gummy smile is gum recontouring in Arcadia. This treatment is relatively straightforward. Your dentist simply examines the gum line and takes note of areas where there's too much tissue. Then the excess part of the gums is surgically removed. Thanks to modern laser dentistry, this can be done with a minimal amount of discomfort and bleeding. In fact, you may not even need to have your mouth numbed for it. By the end, your dentist will have sculpted a much more attractive smile for you to enjoy.
Not all gummy smiles are alike. The best form of treatment is going to vary depending on the underlying cause of your problem. If you're not sure why your dentist is recommending a specific solution, be sure to voice your concerns right away. Once you've found the right kind of treatment, a better smile won't be too far off in the future.
About the Author
Dr. Kenneth J. Canzoneri earned his doctorate degree from the Northwestern Dental School. At his private practice in Arcadia, he has made it a point to keep advancing his services through continuing education and up-to-date technology. He holds membership with the American Academy of Cosmetic Dentistry and can offer many different solutions for those dissatisfied with their smiles. To schedule a consultation for a gummy smile, visit his website or call (626) 446-1679.
Comments Off

on 4 Ways to Get Rid of a Gummy Smile
No Comments
No comments yet.
RSS feed for comments on this post.
Sorry, the comment form is closed at this time.