February 26, 2020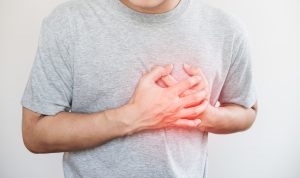 If you're already suffering from heart problems, then developing gum disease might be even more dangerous than usual. Not only will you still have to worry about the possibility of tooth loss if the condition becomes too advanced, but according to Harvard Health Publishing, your risk of a heart attack or stroke could be two to three times greater. Keep reading to discover the true link between gum health and heart health – and why gum disease treatment in Arcadia could have a bigger impact than you may think.
What is Gum Disease?
Gum disease occurs when the soft tissues that protect the roots of your teeth become infected. Bacteria that enter the gums can cause notable inflammation and bleeding. In severe cases, they can damage the bone and ligaments in your jaw; sooner or later they might even cause you to lose some of your permanent teeth.
How is Gum Disease Linked to Heart Health?
Unfortunately, the damage of gum disease does not remain contained in your mouth. The endotoxins produced by certain bacteria can enter the bloodstream more easily when the gums are infected. As such, they can travel throughout the body and cause inflammation in various areas – including the heart.
Furthermore, there are multiple studies that show a relationship between gum disease and cardiovascular issues such as heart attacks or strokes. It's not entirely clear whether there's a direct cause-and-effect relationship; for one thing, both conditions have similar risk factors (such as obesity and poor general health). That said, the idea that gum disease could contribute to heart disease is growing more popular.
What Can You Do About Gum Disease?
If you want to minimize your risk of a life-threatening heart problem, protecting yourself from gum disease could very well be a crucial step. Ideally, you should prevent gum infections from ever developing at all. To do so, you'll need to brush and floss extremely well at home, and you should visit your dentist on a regular basis. Most patients only need two checkups a year, but if you're already struggling with gum, three or four visits may be recommended.
Advanced gum disease can be treated via scaling and root planing. Essentially, the bacteria that has accumulated underneath the gum line is removed, and the roots of your teeth will be smoothed to lower the risk of further inflammation. If your dentist in Arcadia can perform this procedure with a laser, you can look forward to a quick recovery and much less discomfort.
Your dental health can have a very real effect on the rest of your body. Talk to your dentist right away about any worrisome symptoms you might have noticed in your mouth. Doing so could allow you to minimize your risk of heart problems – not to mention maintain your brilliant smile!
About the Author
Dr. J. Canzoneri opened his private practice in Arcadia shortly after earning his doctorate degree from the Northwestern Dental School. As a proud member of the World Clinical Laser Institute, he's well-versed in using dental lasers to treat gum disease. If you're concerned that an infection in your gums might be putting your heart at risk, you can make an appointment with Dr. Canzoneri by visiting his website or calling (626) 446-1679.
Comments Off

on The Link Between Unhealthy Gums and an Unhealthy Heart
No Comments
No comments yet.
RSS feed for comments on this post.
Sorry, the comment form is closed at this time.