December 15, 2021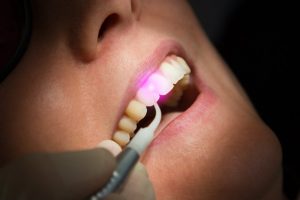 Laser dentistry might sound like something that's straight out of science-fiction, but it's very real and has been since the mid-1990s. While lasers were initially used to help with gum disease, today, many dentists treat cavities with them as well. Is this wise? Yes! Laser dentistry not only makes cavity treatment more precise and efficient, but it also makes the patient experience much, much more pleasant. To learn a little more about how it works, keep reading!
How Laser Treatment for Cavities Works
In the past, if a patient needed a filling to fix a cavity, the dentist would first give them an injection to numb the area, and then a dental drill would be used to remove the decayed enamel. The dentist would then place a filling to restore the tooth's strength while preventing further damage.
But, with laser dentistry, a concentrated beam of light serves as a gentler substitute for the drill. Today's lasers are strong enough that they can cut through hard tissue (like enamel) while keeping the patient completely comfortable.
Why Patients Love Laser Treatment for Cavities
No Drill: That's right! Thanks to laser dentistry, your dental team can keep the dreaded drill tucked away.
No Injection: The laser itself emits practically no heat, sound, or vibration, so many patients don't need local anesthetic (though it may be necessary in cases where the cavity is located in a sensitive spot).
Enamel Preservation: Thanks to the increased accuracy offered by the laser, a dentist is able to remove as little enamel as possible while preparing a tooth for a filling. This helps preserve the remaining structure, which will help the filling (as well as the tooth) last as long as possible.
Easy to Relax: A dental laser can focus exactly where it's needed and not affect the healthy gums and enamel around a cavity. This leads to less irritation and discomfort both during and after the procedure.
How to Find a Laser Dentist
While laser dentistry is much more common these days, it's still not used in every single office. To see whether or not a dentist is a laser dentist (which sounds much cooler), quickly scan their homepage and look at the doctor's bio. If they have training in laser dentistry, you should easily be able to find it in these places without having to dig too much.
While no one likes the idea of needing to get a cavity repaired, doing so with laser dentistry helps people avoid many of the worst aspects of receiving a filling, making it easier for them to get their smile and oral health back on track.
About the Author
Dr. Kenneth J. Canzoneri is a graduate of the Northwestern Dental School, and today, he is a member of the Academy of Laser Dentistry. He also tours the country and lectures on laser dentistry through the World Clinical Laser Institute. As such, he is a big proponent of the technology and has successfully used it in his practice to treat cavities for years. To learn more about laser dentistry or schedule an appointment to see if you could benefit from it, click here.
Comments Off

on Is Cavity Treatment Using a Laser a Good Idea?
No Comments
No comments yet.
RSS feed for comments on this post.
Sorry, the comment form is closed at this time.