June 8, 2022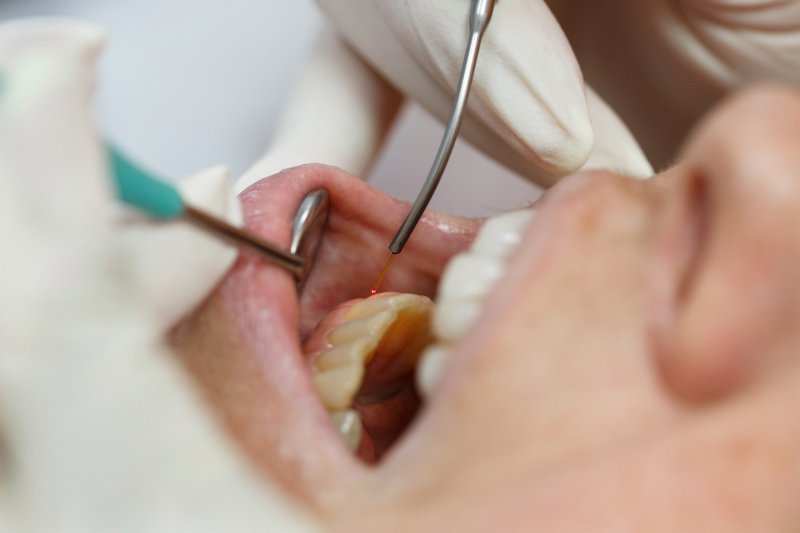 For decades, surgical procedures were the most common way to address certain dental issues like "gummy" smiles and periodontal disease. Today, there's a modern alternative that's much less invasive and far more comfortable – soft tissue laser dentistry! It offers many incredible benefits and can effectively address multiple oral health problems. Read on to learn more about what it is and its different applications regarding dentistry.  
What Is Soft Tissue Laser Dentistry?
A soft tissue laser uses a small beam of intensely focused light to perform several different functions. Laser therapy is an effective method as it allows for precise control during soft tissue treatment. Not only does it remove tissue, but it can be used to reduce bleeding and swelling, seal blood vessels, and seal nerve endings. Because problem areas are targeted accurately and precisely, there's less discomfort following the procedure. Soft tissue laser dentistry is minimally invasive, meaning patients are less likely to experience swelling and bleeding. As a result, there's a shorter and more smooth-sailing recovery.
The Most Common Applications of Soft Tissue Laser Technology
Nowadays, soft tissue laser dentistry can be used for multiple different reasons. Let's take a look at some of the more common applications:
Soft Tissue Surgery: Using laser technology as opposed to a scalpel will lead to decreased post-operative pain.
Periodontal Procedures: Lasers allow dentists to gain easier access to deeper calculus deposits and target only damaged tissue, which allows for better healing.
Implant Recovery: Soft-tissue modification around the implant can be done quickly with laser technology, minimizing the trauma from the procedure if another method were used.
Treating Aphthous Ulcers: Also known as canker sores, these can be quite painful. Instead of using topical treatment, dentists can use laser therapy to promote faster healing without the use of chemicals.
Frenectomy: Laser therapy means there's no need for anesthesia and patients can expect little bleeding following their treatment.
Benefits of Soft Tissue Laser Dentistry
Soft tissue laser dentistry provides several incredible benefits, such as:
Minimal bleeding
Faster recovery time
Reduced swelling
Lower risk of post-op infection
Better accuracy and precision
Decreased risk of harming nearby healthy tissue and teeth
Comfortable patient experience that eliminates the need for local anesthesia
Dentistry is more advanced than ever before. With modern developments like soft tissue laser dentistry, taking care of your smile has never been easier! If you want to know whether or not this service is right for you, contact your dentist and schedule a consultation.
About the Author
Dr. Kenneth Canzoneri combines modern dentistry with old-fashioned hospitality. He's passionate about providing exceptional yet personalized dental care that'll leave patients smiling after every appointment. If you're interested in laser dentistry, there's no better man to reach out to than Dr. Canzoneri. He regularly promotes technological advancements in laser dentistry by participating with the World Clinical Laser Institute (WCLI), the world's largest education organization in the field. To learn more, visit our website or call (626) 446-1679.
Comments Off

on How Is Soft Tissue Laser Dentistry Beneficial?
No Comments
No comments yet.
RSS feed for comments on this post.
Sorry, the comment form is closed at this time.