September 8, 2020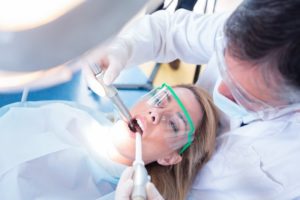 Even as more and more nonessential businesses start to reopen across the United States, it's important to remember that the threat of COVID-19 hasn't disappeared. Luckily, dental professionals have always been experts at keeping their tools, and your smile, extremely clean. During these strange times, your dentist in Arcadia is devoting even more time than usual to sanitizing dental instruments that they use to treat you. Here are some of the ways your dental team is keeping their tools and offices spotless during the COVID-19 pandemic.
Disposing of Single-Use Tools
Some dental instruments, like needles and suction-tube tips, are designed to be thrown away immediately after making contact with a patient. Disposing of them in this manner completely eliminates the risk of spreading germs.
Disinfecting Reusable Instruments
Items that cannot be thrown away, such as dental mirrors, must be thoroughly sanitized after each use. In between patients, these instruments are disinfected with specific methods outlined by the CDC and ADA, including:
Autoclave, which applies steam under pressure
High dry-heat oven
Chemiclave, which utilizes a cleaning chemical vapor
These specialized devices are tested regularly to ensure they're always functioning properly.
Sanitizing Frequently Touched Surfaces
Large, fixed equipment in the operatories must also be sanitized. Any surface the dentist, team members, or patient touches is disinfected before the next patient enters. This includes sink handles, countertops, light switches, doorknobs, keyboards, and the examination chair. Not only are these surfaces cleaned with soap and water, they are then sanitized with a hospital-grade disinfectant to target any remaining germs.
Sterilizing Personal Protective Equipment (PPE)
To prevent the spread of harmful particles from your dental team's work wardrobe during your appointment, they will:
Change into and out of their work scrubs only while at the office to avoid tracking in any outside germs
Disinfect reusable PPE like face shields after every patient
Utilizing disposable items like gloves and shoe coverings to minimize the risk of germs spreading from their skin onto other surfaces
Additional Precautions to Keep You Germ-Free
When keeping a dental office clean during a pandemic, everyone has a role to play. That's why, in order to keep you and the practice as healthy as possible, you may be asked to:
Rinse with an antibacterial mouthwash before your appointment begins
Dispose of any outside gloves when you arrive
Wait in your car instead of the reception area
Many of the new COVID-19 dental safety protocols, such as sanitizing dental instruments, occur behind the scenes. However, rest assured that your dentist and their team members are going above and beyond to ensure the health and safety of all of their patients during this stressful time.
About the Author
Dr. Kenneth J. Canzoneri is a dentist near San Marino, CA who obtained his doctorate degree from the Northwestern Dental School. He has earned a Mastership in the World Clinical Laser Institute, the world's largest laser dentistry education organization. His practice prioritizes the safety and well-being of his patients, which is why his team is taking all the necessary precautions to keep the practice clean. To learn more about how you'll be safe in Dr. Canzoneri's care, contact his office at 626-446-1679.
Comments Off

on How Your Dental Team Is Keeping Their Instruments Clean During COVID-19
No Comments
No comments yet.
RSS feed for comments on this post.
Sorry, the comment form is closed at this time.