October 8, 2022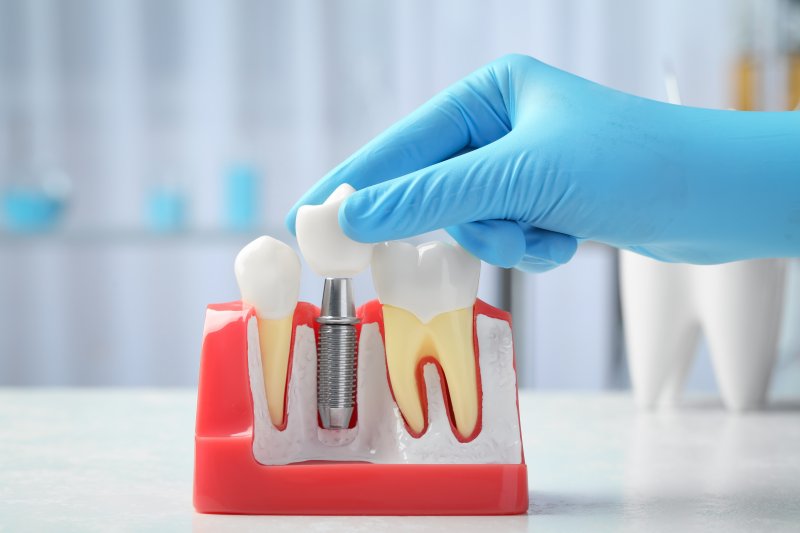 Dental crowns are durable, realistic-looking restorations that are a great option for people with broken, chipped, or decayed teeth. Like many dental treatments, they can give you back the confidence and sense of security you may have lost. Having one come loose can have the opposite effect, sending you into a panic. Stay calm; here are four clear steps you can take to help you save your dental crown.
Step 1: Secure the Crown
So, let's say you take a bite of something and your crown comes loose. What do you do?
If the crown hasn't come completely loose, stop chewing. Putting more pressure on your broken crown will only put you in danger of knocking it off or damaging it. Try to avoid playing with it or shifting it with your tongue.
If your crown is rolling around in your mouth, you need to retrieve it. Odds are your dentist will be able to reinsert it into your mouth. Find a safe, sanitary container and stash the tooth away.
Step 2: Call Your Dentist.
Make an appointment with your dentist as soon as possible. They will either replace your old crown or fit you for a new one.
Depending on the situation, your dentist may recommend you try and put the crown back into its spot. You'll first need to clean it out with toothpaste. Then, use a dental adhesive you can buy at any supermarket to stick the crown back over the tooth. In a pinch, even toothpaste or sugar-free gum can work.
Step 3: Take It Easy
Until you can see your dentist, you should be as gentle with your crown as possible. Try to:
Avoid sticky or chewy foods
Avoid chewing on the side of the mouth your crown is on
Brush gently so as not to disturb the crown
Until then, all you can do is wait. At your appointment, your dentist will be able to evaluate why the crown may have come loose and decide whether it needs to be replaced.
How to Prevent a Crown from Coming Loose
There are several reasons a crown can fail. Some are due to poor design, like being improperly fitted or not having enough cement to be stable. Most, however, can be prevented if you're cautious.
Stay away from sticky foods that can pull your crown out of place. If you grind your teeth at night, ask your dentist about wearing a mouthguard to bed. Most importantly, brush and floss well around your restoration. Many times, failures are due to decay in the natural tooth, so keeping up good dental hygiene is essential.
Losing a dental crown can be scary, but if you follow these steps, you should be fine. Your dentist is prepared for any emergency and will be able to help you through every step of the process.
About the Author
Dr. Kenneth J. Canzoneri is passionate about dentistry and uses his extensive skillset to give every patient he sees the smile they deserve. He earned his degree from the Northwestern Dental School and is a proud member of the American Academy of Cosmetic Dentistry (AACD). If you have any questions about dental crowns or need to schedule an emergency visit, he can be reached via his website, or by phone at (626) 446-1679.
Comments Off

on What to Do if Your Dental Crown Comes Loose
No Comments
No comments yet.
RSS feed for comments on this post.
Sorry, the comment form is closed at this time.