February 6, 2020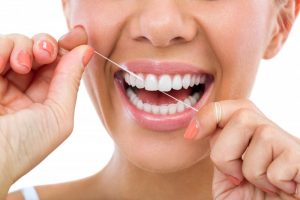 When you think of cleaning your teeth, you probably picture a toothbrush, with dental floss lurking somewhere in the background. However, brushing alone only cleans three of the five surfaces of your teeth. You need to floss to remove bits of food, bacteria, and plaque from between your teeth and along your gumline. But which cleaning method should you use first? Both sides of the debate have their advantages and disadvantages, and your dentist in Arcadia is here to discuss them.
Flossing Before Brushing
When you floss first, you're opening up the spaces between your teeth ever so slightly. By doing this, those areas are now more receptive to the fluoride from your toothpaste. As a result, you're less likely to get cavities between your teeth. The toothpaste also remains on your teeth longer, since it's the final step in the process.
Also, when you floss before brushing, it "loosens up" bacteria and food debris from between the teeth. Brushing after that then further dislodges plaque, decreasing your chances of getting cavities and gum disease.
Brushing Before Flossing
On the other hand, brushing first can also help with the spread of fluoride throughout your mouth. When your teeth are freshly covered in fluoride from brushing, the floss then pushes the fluoride into the spaces between your teeth that your brush can't reach.
However, some dentists hypothesize that flossing after brushing scrapes some of the fluoride off the teeth, ultimately leaving them more prone to problems.
So, Which Should You Do First?
All things considered, it seems like flossing before brushing might be the better answer to the debate. However, as most dentists will agree, what's more important is that you floss at least once a day and brush twice daily. As long as you partake in both habits, and regularly see your dentist for checkups and cleanings, your teeth and gums should be perfectly fine. Even the least efficient way of cleaning is still better than skipping out on brushing and flossing altogether.
If you're not in the habit of flossing, it may help to do it before you brush. That way, you can get it out of the way first and make sure you don't forget. After a while, flossing will be as much of a daily habit in your life as brushing!
About the Author
Dr. Kenneth Canzoneri is a dentist in Arcadia, CA who has completed the Mastership requirements with the World Clinical Laser Institute, the world's largest laser dentistry organization. This means he has acquired the knowledge and skills necessary to treat gum disease, which typically develops as a result of inadequate oral hygiene. He wholeheartedly believes that the order in which you brush and floss isn't as important as engaging in both habits daily. To learn more about him, visit his website.
Comments Off

on Brushing and Flossing: Which Should You Do First?
No Comments
No comments yet.
RSS feed for comments on this post.
Sorry, the comment form is closed at this time.