November 16, 2019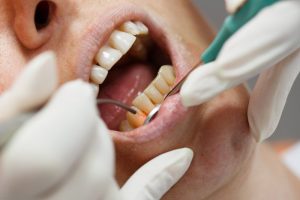 Many patients have some kind of fear or anxiety when it's time for a dental appointment. In many cases, a large part of that fear is the large, booming noise of the dental drill. The good news is that modern technology has provided dentists with a much quieter alternative that could also cause far less pain. If your anxiety has kept you away from the dentist for too long, read on to learn how Biolase laser dentistry in Arcadia could help you feel more comfortable about your care.
How are Lasers Used in Dentistry?
There are actually two kinds of dental lasers: soft tissue lasers and hard tissue lasers. A soft tissue laser are usually selected when treating the gums and other soft, vulnerable tissues in your mouth, while hard tissue lasers are specifically designed to be used on your teeth. With both types at their disposal, a dentist can use Biolase lasers for a wide variety of procedures, including:
Treatment of gum disease
Finding cavities
Preparing your tooth for a filling
Recontouring gum tissue
Healing cold sores
Teeth whitening
Dentists often favor lasers over traditional methods because of the various benefits they provide. Not only can they greatly speed up the procedure, but they also sterilize your teeth in gums, which makes it less likely that you'll suffer from an infection after the surgery. The increased precision of a laser also makes it easier for the dentist to perform more conservative treatments.
How Can Lasers Reduce Dental Anxiety?
Unlike a dental drill, a dental laser will make a quiet pulsing sound that many anxious patients find relaxing. Obviously, the more relaxed you are during dental treatment, the more pleasant your appointment will be. There are plenty of other reasons why you might find procedures performed with a laser more pleasant. For example:
Lasers cause much less pain than traditional dental tools; in fact, sometimes they can completely eliminate the need for local anesthesia.
With a laser, you won't experience any of the unpleasant vibrations or pressure exerted by a dental drill.
There will be far less bleeding during the procedure because the heat from the laser cauterizes the blood vessel.
Since lasers are far more precise than traditional tools, you don't have to worry about the dentist removing more tissue than they need to.
In general, healing time is accelerated when the treatment is performed with a dental laser.
If you think laser dentistry could be the solution for your dental fears, ask your dentist how this technology could be used to enhance your treatment; not only could it help you feel more at ease, but it will leave your smile much healthier and more dazzling.
About the Author
Dr. Kenneth J. Canzoneri regularly participates with the World Clinical Laser Institute (WCLI), which is the world's largest organization dedicated to laser dentistry education. He also serves on the executive board of Biolase and has completed advanced training in using laser technology to treat numerous oral health problems. To schedule an appointment, visit his website or call (626) 446-1679.
Comments Off

on How Biolase Lasers Could Help You Overcome Your Dental Anxiety
No Comments
No comments yet.
RSS feed for comments on this post.
Sorry, the comment form is closed at this time.